How to Measure for a New Garage Door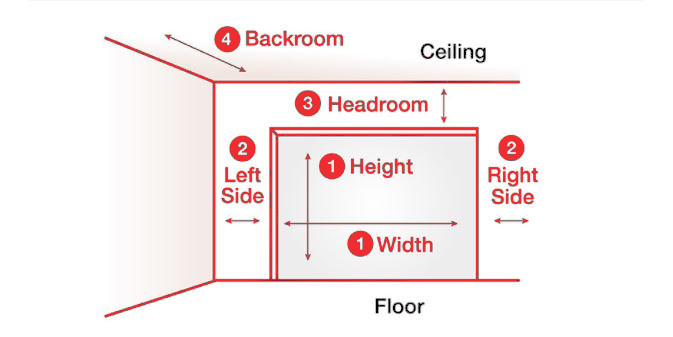 Thinking of getting a new garage doors in Winnipeg? Great!
Measurements will help our sales team provide you with door options and pricing quickly.
Here are the measurements needed (measure in feet and inches):
#1 - Door Opening
Measure the door opening from the left side of the opening to the right side of the opening. Next, measure from the top of the opening to the floor of your garage. Try to measure from the widest and tallest points.
*Do not include the molding in your measurements.
#2 - Sideroom
Measure the space on either side of the opening to the closest wall. You will need at least 3-3/4" on either side of the door to install a vertical track system.
*If you have a double car garage with two doors, you will need at least 10" of wall between the doors.
#3 - Headroom
Measure the space from the top of the door opening to the ceiling (or to the roof joists). Most doors require 12" of headroom, although Carriage House doors require 15"-18" of headroom. Add an additional 3" of headroom if you wish to install an automatic door opener.
*Special hardware is available if you have between 4-1/2" and 12" of headroom
#4 - Backroom
Measure the distance from the garage door opening to the back wall of your garage. For a standard garage door, you need to have at least the height of the door opening plus an additional 18" in backroom.
*Additional backroom may be required for an automatic opener.
Once you have your measurements, submit them to a Wallace sales representative to get pricing on door options that fit your home.
Submit your measurements, and get a quote today!
*Please note: Measurements are for pricing and style options only. A Wallace technician will re-measure to assure proper fit before ordering your door.