Why Choose LiftMaster Garage Door Openers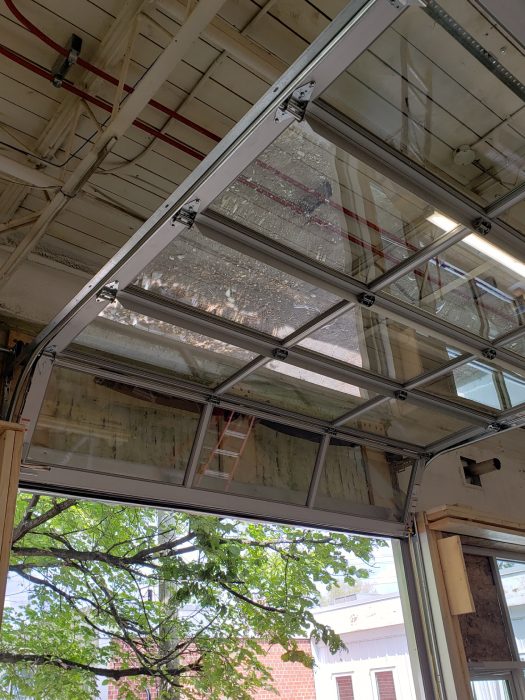 We love LiftMaster garage door openers, and we recommend them as a high-quality option to all of our residential clients. To understand why we love LiftMaster, it's first important to understand what garage door openers are, and what features you want a garage door opener to have.
Here at Wallace + Wallace, we believe in client education. The more you know about garage door repair in Winnipeg, the better your decisions will be. With that in mind, here's our guide to LiftMaster garage door openers:
Things to consider when buying a garage door opener
The garage door opener is the motorized device that allows you to open or close garage doors. They're the reason that garage doors have become so popular. Imagine having to open your garage manually - not much fun!
You might not think about your garage door opener very often, but there's a lot to know. There are a variety of different types of openers, and each of them have distinct lifting powers, safety mechanisms, controls, and more.
What type is it?
There are several different types of garage door openers, all of which offer a variety of advantages. Some are less expensive, others are quieter, and a few are better for small spaces.
Belt drive openers offer quiet and efficient garage door openings - they're perfect for circumstances where noise is problematic, such as when a garage is near a bedroom.


Chain drive openers are budget friendly, but generate more noise than belt drive openers.


Jackshaft openers are quiet and wall-mounted, perfect for garages where ceiling space is at a premium.


How much lifting power does it have?
The larger and heavier your garage door opener is, the more lifting power you'll require. LiftMaster offers a selection of different garage door openers with a selection of lifting powers. More is not necessarily better - you only want enough lifting power to safely and efficiently lift the door. Any more, and you could generate unnecessary noise - not to mention, be spending extra money for power you don't need.
Generally, ½ horsepower is sufficient for standard double-car garage doors, while ¾ horsepower is the choice for larger garage doors.
Safety first
There are a number of different safety features available on garage door openers. These security features include methods of preventing entry (such as locks), and ways to stop the garage door from injuring anyone. You can expect sensors, emergency releases, and automatic reversing in all LiftMaster systems.
Controls and panels
The panels of your garage door opener provide you access to your garage when remote access isn't available. Modern openers can feature external panels which allow you to open your garage door from outside, programmable timers, and more.
Control remotely
One of the biggest innovations in the world of garage doors is the advent of smart openers. These openers are connected to the internet, so you can use your smartphone to control your garage opener - no more worrying about losing the remote control to open your garage!
Benefits of a LiftMaster garage door opener
Now that you have an understanding of garage door openers, we can tell you why we love LiftMaster so much.
Let's start with the variety. LiftMaster has garage door openers of every type we listed above. They also offer openers at both ½ and ¾ horsepower, which means there's a LiftMaster opener that's perfect for your door.
LiftMaster openers are high-quality, long lasting openers, and that sets them apart from the competition. The other thing that really sets them apart? The features:
When it comes to safety, LiftMaster is pretty much unparalleled. You can get LiftMaster's Security+ 2.0 technology, which sends a new code to your garage door opener every time it's used. This makes the controls for the opener almost completely immune to hacking. Their doors also lock automatically every time they're closed, are electronically protected against forced openings, and automatically close after a certain amount of time.
As far as controls are concerned, LiftMaster can't be beaten! All of our LiftMaster openers come with myQ technology. This allows them to connect to your Wi-Fi and be controlled by your smartphone. You can equip your opener with security cameras, get notifications when your garage is open, and even open your garage door for deliveries from Amazon. Smart garages are the future, and myQ is the premier smart garage technology.
Which LiftMaster garage door opener is right for you?
We have a wide variety of LiftMaster garage door openers available. They include:
8500W Jackshaft Opener: A wonderful low noise opener that is mounted on your wall instead of your ceiling.


LiftMaster 87504-267 Belt Drive Opener (With Battery Backup and built in camera): An ultra-quiet motor with battery backup for when the power goes out, and a built-in camera to see who's coming and going. It even has corner-to-corner LED lighting for illumination - it may be the best residential opener we have.


LiftMaster 87802 Heavy Duty Chain Drive Opener (With Battery Backup): The battery backup and LED lighting make this model an excellent choice for heavy residential doors, like glass doors and extra large doors (20'W x 10'H and up).



LiftMaster 84501 Belt Drive Opener: One of our most commonly sold openers, this one is perfect if you want an ultra-quiet opener without any bells and whistles. Affordable and functional.


LiftMaster 84602 Chain Drive Opener (With Battery Backup): This affordable option is perfect for folks who don't mind a noisier garage door opener. The battery backup keeps it functional when the power goes out.
Advantages of a professional install by Wallace + Wallace
When you call us, you'll get a free quote, so you can compare the various garage doors we offer. Our professionals have been in the business of installing garage doors for decades.The installation will be quick and efficient, and you'll get a garage door that will last you for years.
Contact us for a quote!
Interested in getting a new garage door? Give us a call! We'll give you a free quote, and get your new door installed as soon as you want it.