​Overhead Doors: How To Choose The Right One For Your Business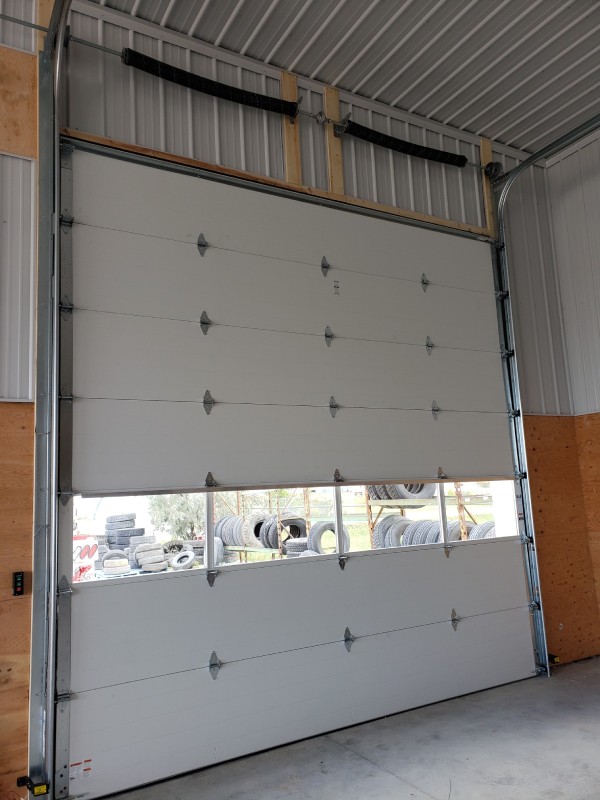 Business owners are sometimes surprised to learn about the wide variety of different overhead doors that are available for commercial applications. These doors aren't just used for garages - they can be access points for heavy equipment and deliveries, an aesthetically pleasing choice for restaurants and bars, and a whole lot more.
Here at Wallace + Wallace, we pride ourselves on our knowledge of overhead doors, and on the wide variety of different doors we have available. In this brief guide, we'll help you choose the right overhead doors for your business.

Types of overhead doors

Overhead doors are any doors that open and close from overhead - simple enough! There are several different styles of overhead doors:
Full-view

Full-view overhead doors are overhead doors with transparent panels. The types of businesses that are most likely to purchase full-view doors are those who have particular aesthetic needs. In car dealerships, for example, full-view doors are prized for their ability to showcase cars to passersby, all while providing convenient entrances and exits for those same cars.
Restaurants and other customer-facing businesses will also use full-view doors. These doors can be opened in seasonable weather to connect the business to its streetside property (for example, to connect a restaurant to its patio), and closed in unseasonable weather, while still providing an aesthetically pleasing look into the business.
Sectional
Sectional overhead doors are incredibly versatile - many full-view overhead doors are sectional. Sectional doors are quite simply any overhead doors that are built with several horizontal panels joined together by hinges. They can be insulated to incredible R-values and customized in a wide variety of colours and styles. When people think of garage doors, they're almost always thinking of sectional doors.
Rolling steel doors
Rolling steel doors are the go-to for small spaces where room is at a premium, and for places where aesthetics aren't seen as having primary importance.
These doors don't require hinges, tracks, or many of the other components that are used on sectional doors. As such, they cost less to maintain, and they take up a lot less space.
There is a disadvantage however: they come in far fewer styles than sectional doors (though you can choose from a few different colours).
Rolling steel doors are often used in warehouses and healthcare facilities.
High-speed doors
High-speed doors are any overhead doors that operate at a much faster speed than traditional overhead doors. Both sectional and rolling steel doors can be high-speed doors. They're more costly than traditional overhead doors, but they come with a number of advantages.
High-speed doors provide added security - they make it almost impossible for intruders to sneak through. They're also perfect for businesses who expect a lot of traffic, like manufacturing facilities where heavy equipment may quickly need to move from facility to facility.
Choosing the right type of door
Talk to the team at Wallace + Wallace - we'll help you choose the right overhead door for your needs. There are a dizzying array of different styles available. We'll help you choose one that offers you the protection, longevity, and aesthetics you need for your business, all while ensuring functionality within your space.
Things to consider
There are a number of things to contemplate when choosing your overhead door, from cost to functionality. Let's take a look at a few of the things you should consider:
Longevity and Durability
You could make a blanket statement and say that the more durable an overhead door is, the better. That's true to a certain extent, but longevity and durability are more important for overhead doors that are going to see a lot of use. When you only use your overhead doors during particular seasons, for example (like restaurants with full-view doors), longevity may not be as important to you.
Conversely, if you operate a warehouse or manufacturing facility in which each overhead door will be used several times per day, longevity and durability are of the utmost importance.
Insulation
The level of insulation you'll need depends heavily on both the nature of your operation and your climate. Here in Winnipeg, well-insulated garage doors are a must for many applications. With temperatures ranging from -40℃ in the winter to +30℃ in the summer, it pays to have a well-insulated overhead door for any space that's going to be occupied by people. Insulation is also key for facilities that use temperature sensitive materials.
Overhead door insulation can reach some truly impressive R-values. If you need a well-insulated door, let us know.
Flameproof
Our overhead doors all provide a degree of fire resistance, but in some manufacturing facilities, an added level of fire resistance is essential. We offer a variety of fire-rated doors for businesses that are at greater risk for fire and explosion.
Aesthetics
The value of aesthetics increases when your business is client-facing. Manufacturing facilities tend to have less need for aesthetically pleasing doors than car dealerships or restaurants. There's no accounting for taste - that's why there are so many different styles and colours available for overhead doors.
Contact us for a quote today
Wallace + Wallace provides overhead doors for businesses in Winnipeg and the surrounding area. Call us today - we'll offer practical advice and quotes on the cost of a variety of different doors. These quotes will include the cost of installation, as well. We look forward to working with you.